Anti-S100B (Astrocyte and Melanoma Marker) Monoclonal Antibody(Clone: S100B/1012)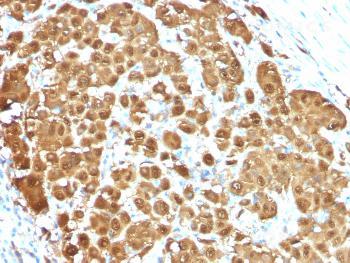 Fig. 1: Formalin-fixed, paraffin-embedded human Melanoma stained with S100B Mouse Monoclonal Antibody (S100B/1012).
Roll over image to zoom in
---
| | |
| --- | --- |
| Amount : | 100 µg |
| Isotype : | Mouse IgG2a, kappa |
| Content : | 200 µg/ml of Ab Purified from Bioreactor Concentrate by Protein A/G. Prepared in 10mM PBS with 0.05% BSA & 0.05% azide. Also available WITHOUT BSA & azide at 1.0mg/ml. |
| Storage condition : | Antibody with azide - store at 2 to 8°C. Antibody without azide - store at -20 to -80°C. Antibody is stable for 24 months. Non-hazardous. |
The specificity of this monoclonal antibody to its intended target was validated by HuProtTM Array, containing more than 19,000, full-length human proteins. S100 belongs to the family of calcium binding proteins. S100A and S100B proteins are two members of the S100 family. S100A is composed of an alpha and a beta chain whereas S100B is composed of two beta chains. This antibody is specific against an epitope located on the beta-chain (i.e. in S-100A and S-100B) but not on the alpha-chain of S-100 (i.e. in S-100A and S100A0). This antibody can be used to localize S-100A and S-100B in various tissue sections. S-100 protein has been found in normal melanocytes, Langerhans cells, histiocytes, chondrocytes, lipocytes, skeletal and cardiac muscle, Schwann cells, epithelial and myoepithelial cells of the breast, salivary and sweat glands, as well as in glial cells. Neoplasms derived from these cells also express S-100 protein, albeit non-uniformly. A large number of well-differentiated tumors of the salivary gland, adipose and cartilaginous tissue, and Schwann cell-derived tumors express S-100 protein. Almost all malignant melanomas and cases of histiocytosis X are positive for S-100 protein.
Flow Cytometry (0.5-1µg/million cells); Immunofluorescence (1-2µg/ml); ,Western Blot (0.5-1µg/ml);Immunohistochemistry (Formalin-fixed) (0.25-0.5µg/ml for 30 minutes at RT),(Staining of formalin-fixed tissues requires boiling tissue sections in 10mM citrate buffer, pH 6.0, for 10-20 min followed by cooling at RT for 20 minutes),Optimal dilution for a specific application should be determined.
For Research Use Only. Not for use in diagnostic/therapeutics procedures.
There are currently no product reviews
---
Customers who purchased this product also purchased