Anti-Spectrin beta III (SPTBN2) Monoclonal Antibody(Clone: SPTBN2/1583)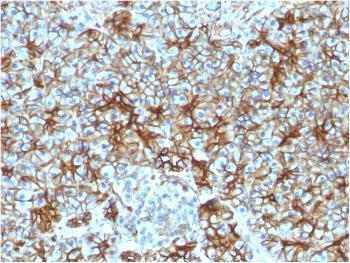 Fig. 1: Formalin-fixed, paraffin-embedded human Pancreas stained with Spectrin beta III Monoclonal Antibody (SPTBN2/1583).
Roll over image to zoom in
---
| | |
| --- | --- |
| Amount : | 100 µg |
| Isotype : | Mouse IgG2b, kappa |
| Content : | 200 µg/ml of Ab Purified from Bioreactor Concentrate by Protein A/G. Prepared in 10mM PBS with 0.05% BSA & 0.05% azide. Also available WITHOUT BSA & azide at 1.0mg/ml. |
| Storage condition : | Antibody with azide - store at 2 to 8°C. Antibody without azide - store at -20 to -80°C. Antibody is stable for 24 months. Non-hazardous. |
| | |
| --- | --- |
| | |
| Gene : | SPTBN2 |
| Gene ID : | 6712 |
| Uniprot ID : | O15020 |
| Alternative Name : | Beta III spectrin; SCA5; Spectrin beta chain brain 2; Spectrin beta non-erythrocytic 2; Spectrin non-erythroid beta chain 2; Spinocerebellar ataxia 5; SPTBN2 |
| Immunogen Information : | Recombinant fragment (around aa356-475) of human SPTBN2 protein (exact sequence is proprietary) |
Spectrin is an actin binding protein that is a major component of the plasma membrane skeleton. Spectrins function as membrane organizers and stabilizers by forming dimers, tetramers and higher polymers. Vertebrate spectrins have two alpha-subunits (alpha-I/alpha-II) four beta-subunits (beta-I-beta-IV) and a beta-H subunit creating diversity and specialization of function. Spectrin and spectrin are present in erythrocytes, whereas spectrin II (also designated fodrin ) and spectrin I (also designated fodrin ) are present in other somatic cells. The spectrin tetramers in erythrocytes act as barriers to lateral diffusion, but spectrin dimers seem to lack this function. Spectrin III is highly homologous to both spectrin I and spectrin II. Spectrin III is highly expressed in brain, kidney, pancreas and liver, and at lower levels in lung and placenta. Spectrin beta 3 is primarily expressed in nervous tissues with highest expression levels in the cerebellum, where it is found in Purkinje cell soma and dendrites.
Flow Cytometry (1-2µg/million cells); (,Immunofluorescence (0.5-1µg/ml); ,Western Blot (0.5-1.0µg/ml);Immunohistochemistry (Formalin-fixed) (0.5-1.0µg/ml for 30 minutes at RT) ,(Staining of formalin-fixed tissues requires boiling tissue sections in 10mM citrate buffer, pH 6.0, for 10-20 min followed by cooling at RT for 20 minutes),Optimal dilution for a specific application should be determined.
For Research Use Only. Not for use in diagnostic/therapeutics procedures.
There are currently no product reviews
---
Customers who purchased this product also purchased