Anti-von Willebrand Factor / Factor VIII Related-Ag (Endothelial Marker) Monoclonal Antibody(Clone: VWF/1465)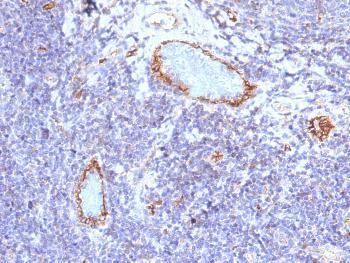 Fig. 1: Formalin-fixed, paraffin-embedded human Tonsil stained with vWF Mouse Monoclonal Antibody (VWF/1465).
Roll over image to zoom in
---
| | |
| --- | --- |
| Amount : | 100 µg |
| Isotype : | Mouse IgG1, kappa |
| Content : | 200 µg/ml of Ab Purified from Bioreactor Concentrate by Protein A/G. Prepared in 10mM PBS with 0.05% BSA & 0.05% azide. Also available WITHOUT BSA & azide at 1.0mg/ml. |
| Storage condition : | Antibody with azide - store at 2 to 8°C. Antibody without azide - store at -20 to -80°C. Antibody is stable for 24 months. Non-hazardous. |
von Willebrand Factor (vWF) is a multimeric glycoprotein that is found in endothelial cells, plasma and platelets. It acts as a carrier protein for Factor VIII and promotes platelet adhesion and aggregation. vWF undergoes a variety of posttranslational modifications that influence the affinity and availability for Factor VIII, including cleavage of the propeptide and formation of N-terminal disulfide bonds. This antibody helps to establish the endothelial nature of some lesions of disputed histogenesis, e.g. Kaposi's sarcoma and cardiac myxoma. It is widely used for differentiating vascular lesions from those of other tissue differentiation within a panel of other vascular markers althoµgh not all tumors of endothelial differentiation contain this antigen.
Western Blot (1-2.0µg/ml); Immunohistochemistry (Formalin-fixed) (1-2µg/ml for 30 minutes at RT) (Staining of formalin-fixed tissues requires boiling tissue sections in 10mM Citrate Buffer, pH 6.0, for 10-20 min followed by cooling at RT for 20 minutes)Optimal dilution for a specific application should be determined.
For Research Use Only. Not for use in diagnostic/therapeutics procedures.
There are currently no product reviews
---
Customers who purchased this product also purchased