Anti-Calretinin / Calbindin 2 (Mesothelioma Marker) Monoclonal Antibody(Clone: CALB2/2786)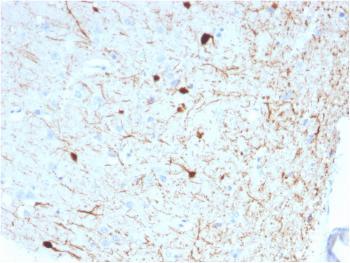 Fig. 1: Formalin-fixed, paraffin-embedded human Cerebellum stained with Calretinin Mouse Monoclonal Antibody (CALB2/2786).
Roll over image to zoom in
---
| | |
| --- | --- |
| Amount : | 100 µg |
| Isotype : | Mouse IgG1, kappa |
| Content : | 200 µg/ml of Ab Purified from rabbit anti-serum by Protein A. Prepared in 10mM PBS with 0.05% BSA & 0.05% azide. Also available WITHOUT BSA at 1.0mg/ml. |
| Storage condition : | Antibody with azide - store at 2 to 8°C. Antibody without azide - store at -20 to -80°C. Antibody is stable for 24 months. Non-hazardous. |
It recognizes a protein of about 29kDa, which is identified as Calretinin (also known as Calbindin 2). Calretinin is a vitamin D-dependent calcium-binding protein involved in calcium signaling. It is present in subsets of neurons throµghout the brain and spinal chord, including sensory ganglia. Antibody to calretinin is useful in differentiating mesothelioma from adenocarcinomas of the lung. It also aids in differentiating adrenal cortical neoplasms from pheochromocytomas.
Western Blot (1-2µg/ml);Immunohistochemistry (Formalin-fixed) (1-2µg/ml for 30 minutes at RT)(Staining of formalin-fixed tissues requires boiling tissue sections in 10mM Citrate Buffer, pH 6.0, for 10-20 min followed by cooling at RT for 20 minutes)Optimal dilution for a specific application should be determined.
For Research Use Only. Not for use in diagnostic/therapeutics procedures.
There are currently no product reviews
---
Customers who purchased this product also purchased