Anti-Wilm's Tumor 1 (WT1) (Wilm's Tumor & Mesothelial Marker) Monoclonal Antibody(Clone: rWT1/857)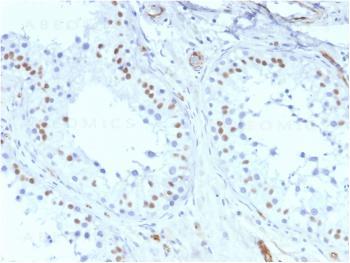 Fig. 1: Formalin-fixed, paraffin-embedded human Testis stained with Wilm's Tumor Mouse Recombinant Monoclonal Antibody (rWT1/857).
Roll over image to zoom in
---
| | |
| --- | --- |
| Amount : | 100 µg |
| Isotype : | Mouse IgG1, kappa |
| Content : | 200 µg/ml of recombinant MAb Purified by Protein A/G. Prepared in 10mM PBS with 0.05% BSA & 0.05% azide. Also available WITHOUT BSA & azide at 1.0mg/ml. |
| Storage condition : | Antibody with azide - store at 2 to 8°C. Antibody without azide - store at -20 to -80°C. Antibody is stable for 24 months. Non-hazardous. |
Recognizes a 47-55kDa-tumor suppressor protein, identified as Wilm's Tumor (WT1) protein. The antibody reacts with all isoforms of the full-length WT1 and also identifies WT1 lacking exon 2-encoded amino acids, frequently found in subsets of sporadic Wilm's tumors.WT1, a sporadic and familial pediatric kidney tumor, is genetically heterogeneous. Wilm's tumor is associated with mutations of WT1, a zinc-finger transcription factor that is essential for the development of the metanephric kidney and the urogenital system. The WT1 gene is normally expressed in fetal kidney and mesothelium, and its expression has been sµggested as a marker for Wilm's tumor and mesothelioma. WT1 protein has been identified in proliferative mesothelial cells, malignant mesothelioma, ovarian carcinoma, gonadoblastoma, nephroblastoma, and desmoplastic small round cell tumor. Lung adenocarcinomas rarely stain positive with this antibody. WT1 protein expression in mesothelial cells has become a reliable marker for the diagnosis of mesotheliomas.
Immunohistochemistry (Formalin-fixed) (1-2µg/ml for 30 minutes at RT)Staining of formalin-fixed tissues requires boiling tissue sections in 10mM Citrate Buffer, pH 6.0, for 10-20 min followed by cooling at RT for 20 minutes)Optimal dilution for a specific application should be determined.
For Research Use Only. Not for use in diagnostic/therapeutics procedures.
There are currently no product reviews
---
Customers who purchased this product also purchased