Coronavirus (COVID-19) Spike Antibody (Clone: ABM19C9)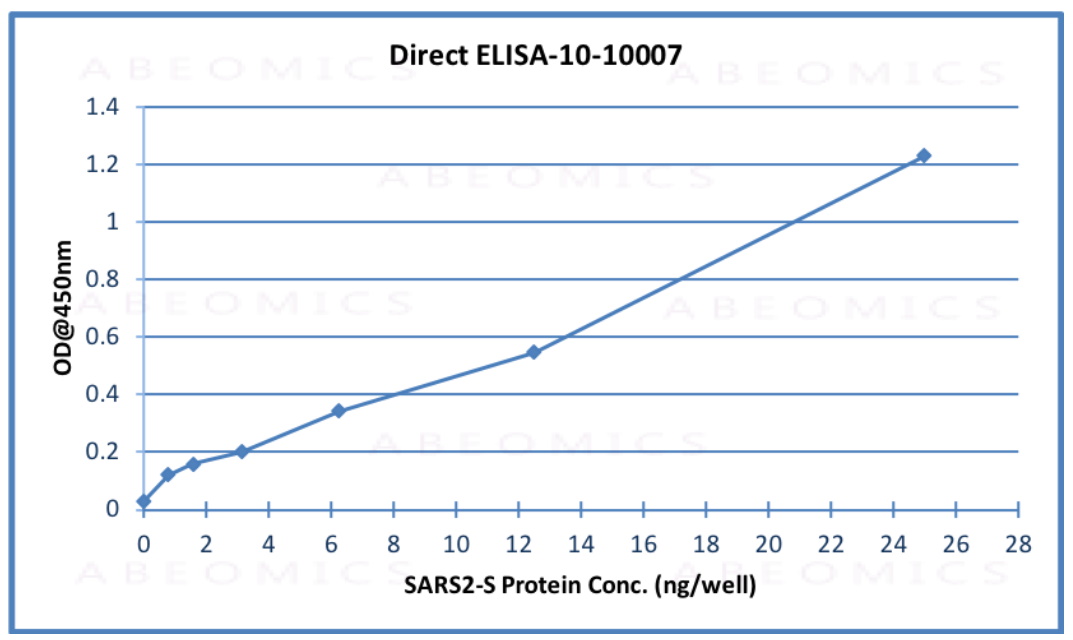 Fig.1: Wells of a 96-microtiter plate were coated with different concentration of a mammalian expressed full-length SARS-Co2/Covid2019/nCov Spike protein. The binding was detected by addition of 200 ng 10-10007 monoclonal antibody per well. The reactivity was detected by a HRP-conjugated goat-anti-mouse IgG monoclonal antibody.
Roll over image to zoom in
Shipping Info:
Order now and get it on Tuesday January 18, 2022
Same day delivery FREE on San Diego area orders placed by 1.00 PM
---
| | |
| --- | --- |
| | |
| Uniprot ID : | P0DTC2 |
| Alternative Name : | nCov, Sars-Cov-2 |
| Format : | Purified |
| Amount : | 100 µg |
| Isotype : | Mouse IgG |
| Immunogen Information : | A partial length recombinant coronavirus Spike Protein from the C-term S2 region was used as the immunogen for this antibody. (988AA-1152AA) |
The spike (S) protein of nCoV/SARS-CoV-2/COVID-19 is one of the structural glycoproteins that remains embedded in viral envelope and acts as the fundamental component of early viral infection of nCoV/SARS-CoV-2/COVID-19 upon binding the host receptor. The nCoV/SARS-CoV-2/COVID-19 has a trimeric spike protein which has two main domains such as S1 domain for receptor binding and S2 domain for membrane fusion and several specific cleavage sites in S1- S2 boundary junction that needs a novel, endocytic protease- primed cleavage to get activated during infection. It mainly binds to the furin protein on the cell membrane which performs trypsin like proteolytic cleavage and then the protein gets activated facilitating its entry into the host. This transmembrane spike protein of nCoV/SARS-CoV-2/COVID-19 shares binding property to the Angiotensin Converting Enzyme 2 (ACE2) likely to that of SARS- CoV. The high affinity of nCoV/SARS-CoV-2/COVID-19 Spike protein for human ACE2 may contribute to the apparent ease with which nCoV/SARS-CoV-2/COVID-19 can spread from human-to-human and make nCoV/SARS-CoV-2/COVID-19 pandemic.
| | |
| --- | --- |
| Purification : | Protein G Chromatography |
| Content : | 25 µg in 50 µl/100 µg in 200 µl PBS containing 0.05% BSA and 0.05% sodium azide. Sodium azide is highly toxic. |
| Storage condition : | Store the antibody at 4°C, stable for 6 months. For long-term storage, store at -20°C. Avoid repeated freeze and thaw cycles. |
1. Single-dose intranasal vaccination elicits systemic and mucosal immunity against SARS-CoV-2 Xingyue An, Melisa Martinez-Paniagua, Ali Rezvan, Mohsen Fathi, Shailbala Singh, Sujit Biswas, Melissa Pourpak, Cassian Yee, Xinli Liu, Navin Varadarajan bioRxiv 2020.07.23.212357; doi: https://doi.org/10.1101/2020.07.23.212357
There are currently no product reviews
---
Customers who purchased this product also purchased