IL-33 (oxidation resistant) (human) (Recombinant) (untagged)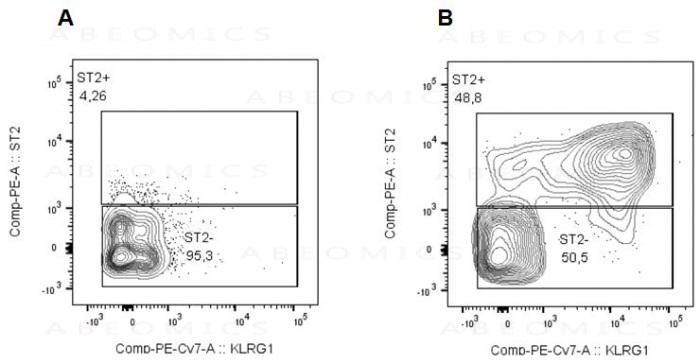 Figure 1: Activation in vivo of Innate Lymphoid Cells 2 (ILC2) by IL-33 (oxidation resistant) (human) (rec.) (untagged) . Method: C57BL/6 mice were injected daily for 3 days with PBS (Figure A) or IL-33 (oxidation resistant) (human) (rec.) (untagged) (at 0.4µg per mouse) (Figure B). At day 4, cells from bone marrows were stained and analyzed by flow cytometry. Levels of ST2 and KLRG1 on Innate Lymphoid Cells (gated as lineage negative, CD127 positive cells) are shown. Picture courtesy of Dr G.Verdeil / Dr S. Trabanelli (Camilla Jandus Group, Department of Fundamental Oncology, University of Lausanne).
Roll over image to zoom in
---
Amount :
10 µg
Purification :
>=95% (SDS-PAGE)
Content :
Reconstitute with 100 µl sterile water.After reconstitution:
for 10µg size: 0.1mg/ml
for 100µg size: 1mg/ml.
Lyophilized. Contains PBS + 1mM DTT
Storage condition :
Short Term Storage +4°C ; Long Term Storage-20°C ;After reconstitution, prepare aliquots and store at -20°C.
Avoid freeze/thaw cycles.
PBS containing at least 0. 1% BSA should be used for further dilutions. Stable for at least 6 months after receipt when stored at -20°C.
Working aliquots are stable for up to 3 months when stored at -20°C.
AA sequence :
Human IL-33 (aa 112-270) is untagged. Amino acids C208 and C232 have been mutated to serine to protect IL-33 from oxidation.
| | |
| --- | --- |
| | |
| Alternative Name : | IL-33 (human) (C208S/C232S Mutant); Interleukin-33 (human) (C208S/C232S Mutant); IL-1F11; NF-HEV |
Source :E. coli
Specific Binds to human and mouse ST2.Interleukin-33 (IL-33; HF-NEV; IL-1F11), a member of the IL-1 family of cytokines, is expressed by many cell types following pro-inflammatory stimulation and is tho µght to be released upon cell lysis. IL-33 binds to and signals through ST2 (IL-1R1) and its stimulation recruits MYD88, IRAK, IRAK4 and TRAF6, followed by phosphorylation of ERK1 (MAPK3) / ERK2 (MAPK1), p38 (MAPK14) and JNK. The ability of IL-33 to target numerous immune cell types, like Th2-like cells, mast cells and B1 cells, and to induce cytokine and chemokine production underlines its potential in influencing the outcome of a wide range of diseases, such as arthritis, asthma, atopic allergy & anaphylaxis, cardiovascular disease/atherosclerosis, nervous system diseases and sepsis. IL-33 facilitates Treg expansion in vitro and in vivo. Recently, IL-33 has been involved in adipocyte differentiation. The biological activity of IL-33 at its receptor ST2 is rapidly terminated in the extracellular environment by its oxidation (formation of two disulfide bridges), resulting in an extensive conformational change that disrupts the ST2 binding site. Mutations at amino acids C208S/C232S protect IL-33 from oxidation and increase its activity.
MW :~17kDa (SDS-PAGE); Monomer (Size Exclusion Chromatography);
Biological Activity: Activates human and mouse ST2-dependent NF-kB pathway. Activates in vivo Innate Lymphoid Cells 2 (ILC2) at 0.4µg /ml.
Endotoxin Content <0.01EU/µg purified protein (LAL test).
For Research Use Only. Not for use in diagnostic/therapeutics procedures.
There are currently no product reviews
---
Customers who purchased this product also purchased