Recombinant SARS-CoV2 S-Protein ACE2 Binding Domain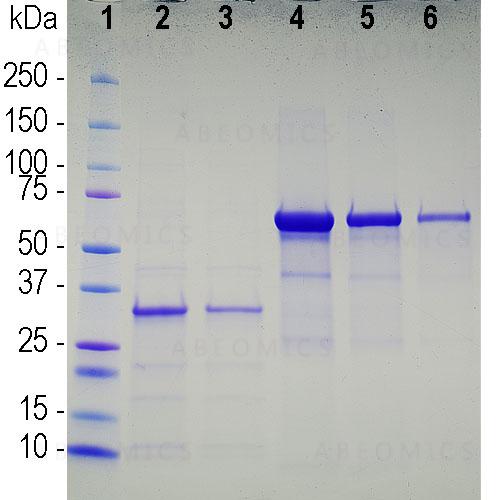 Figure-1: SDS-PAGE gel of recombinant human SARS-CoV-2 cell binding region. Lane 1 shows protein standards of apparent molecular weight as indicated in kiloDaltons. Lanes 2 and 3 are two loadings of the recombinant SARS-CoV-2 binding domain construct, running at about 32kDa as expected. Lanes 4 to 6 are 5.6μg,2.83μg and 1.4μg of BSA.
Roll over image to zoom in
---
| | |
| --- | --- |
| Amount : | 50 µg |
| Content : | Supplied as 1mg/mL in 6M urea, 10mM phosphate buffer pH=7.5 |
| Storage condition : | Stable at 4°C for several months. For longer term store at -20°C, minimize freeze/thaw cycles |
| AA sequence : | MHHHHHHSSG LVPRGSGMKE TAAAKFERQH MDSPDLGTDD DDKAMADIGS EFVEKGIYQT 60 SNFRVQPTES IVRFPNITNL CPFGEVFNAT RFASVYAWNR KRISNCVADY SVLYNSASFS 120 TFKCYGVSPT KLNDLCFTNV YADSFVIRGD EVRQIAPGQT GKIADYNYKL PDDFTGCVIA 180 WNSNNLDSKV GGNYNYLYRL FRKSNLKPFE RDISTEIYQA GSTPCNGVEG FNCYFPLQSY 240 GFQPTNGVGY QPYRVVVLSF ELLHAPATVC GPKKSTNLVK NKCVNF 286 Number of amino acids: 286 Molecular weight: 32074.01 |
The sequence below is that of our recombinant construct of the SARS-CoV-2 spike or S-protein which includes the entire region which interacts with ACE2. The specific binding to ACE2 is essential for viral internalization and infection. We designed this construct based on amino acids 308-541 in the S-protein sequence in Isolate Wuhan-Hu-1, complete genome. This is a defined globular domain recently shown to include all of the amino acids necessary for ACE2 binding. The construct was expressed in and purified from E. coli and includes an N-terminal His-tag and other vector derived sequence shown underlined below.
ELISA
For Research Use Only. Not for use in diagnostic/therapeutics procedures.
There are currently no product reviews
---
Customers who purchased this product also purchased