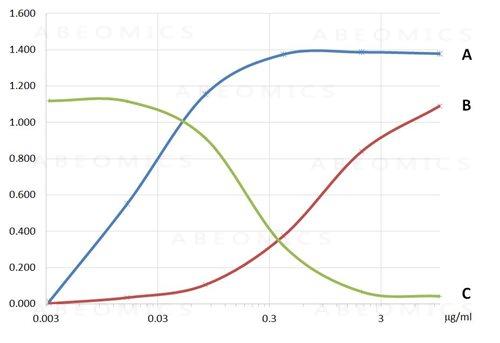 Figure 1: ELISA analysis of a biotinylated antigen using biotin-specific antibody and streptavidin. Microtitration wells were coated with biotinylated human IgG (0.01 μg/ml) and blocked. Then either anti-biotin mouse monoclonal 1D4-C5 (A, C) or streptavidin-HRP (B) was added in six different doses. Finally, goat anti-mouse-HRP conjugate (A) or streptavidin-HRP (C) was added. HRP signal increased in a dose-dependent manner, but with different dynamics when the biotinylated antibody was detected by anti-biotin mAb/goat anti-mouse-HRP (A) or by streptavidin-HRP (B), and it was falling to zero in a dose-dependent manner when streptavidin-HRP was competed by anti-biotin mAb 1D4-C5 (C).
Roll over image to zoom in
---
Format :
Purified
Amount :
0.1 mg
Isotype :
Mouse IgG2a kappa
Purification :
Purified by protein-A affinity chromatography.
Content :
Concentration: 1 mg/ml
Formulation: Phosphate buffered saline (PBS), pH 7.4, 15 mM sodium azide

Storage condition :
Store at 2-8°C. Do not freeze.
| | |
| --- | --- |
| | |
| Alternative Name : | vitamin H, vitamin B7 |
| Immunogen Information : | biotinylated limulus hemocyanin |
Specificity: Mouse monoclonal antibody 1D4-C5 recognizes biotin and can be used as a second-step reagent for detecting biotinylated antigens.
FC (QC tested), ELISA, IP, MC (CyTOF)
For Research Use Only. Not for use in diagnostic/therapeutics procedures.
There are currently no product reviews
---
Customers who purchased this product also purchased