Anti-CD326 / EpCAM Monoclonal Antibody (Clone:323/A3)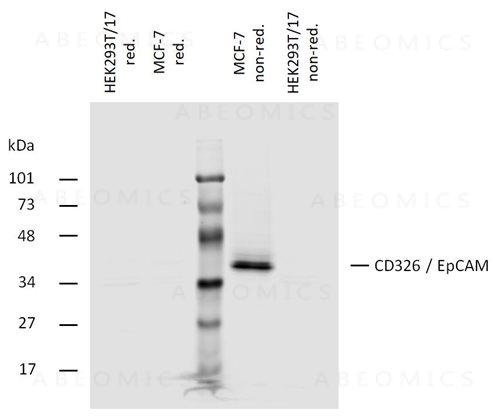 Figure-1: Western blotting analysis of human CD326 (EpCAM) using mouse monoclonal antibody 323/A3 on lysates of MCF-7 cell line and HEK293T/17 cell line (CD326 non-expressing cell line; negative control) under non-reducing and reducing conditions. Nitrocellulose membrane was probed with 2 µg/ml of mouse anti-CD326 monoclonal antibody 323/A3 followed by IRDye800-conjugated anti-mouse IgG1 secondary antibody. A specific band was detected for CD326 protein at approximately 40 kDa.
Roll over image to zoom in
---
| | |
| --- | --- |
| Format : | Purified |
| Amount : | 0.1 mg |
| Isotype : | Mouse IgG1 |
| Purification : | Purified by protein-A affinity chromatography |
| Storage condition : | Store at 2-8°C. Do not freeze. |
CD326 / EpCAM (also known as ESA, EGP40, EGP-2, KSA1/4, CO17-1A, GA733-2, MOC31, Ber-EP4) is a 40 kDa transmembrane glycoprotein serving as adhesion molecule in the basolateral membranes in a variety of epithelial cells. CD326 mediates calcium-independent homotypic cell-cell adhesions. CD326 over-expression has been detected in many epithelial tumours and is often associated with bad prognosis. It has been used for diagnostics of (pre-) malignancies at early stages.
Western blotting: Non-reducing conditions; recommended dilution: 1-2 μg/ml; positive control: MCF-7 cells.
Immunoprecipitation: Recommended dilution: 1-4 μg / ml per 100-500 μg of protein in 1 ml lysate.
Immunohistochemistry (paraffin sections): Recommended dilution: 1-10 μg/ml; pretreatment: tissue section digestion with pepsin (15 min at RT or 10 min at 37°C, 1 mg / ml Tris-HCl, pH 2.0); positive tissue: breast carcinoma.
Immunocytochemistry: Recommended dilution: 1-10 μg/ml.
Flow cytometry: Recommended dilution: 1-4 µg/ml.
For Research Use Only. Not for use in diagnostic/therapeutics procedures.
| | |
| --- | --- |
| Subcellular location: | Lateral cell membrane, Cell junction |
| Post transnational modification: | Hyperglycosylated in carcinoma tissue as compared with autologous normal epithelia. Glycosylation at Asn-198 is crucial for protein stability. |
| BioGrid: | 110250. 5 interactions. |
There are currently no product reviews
---
Customers who purchased this product also purchased