Anti-RAD51 (Prognostic and Response to Chemotherapy Marker) Monoclonal Antibody(Clone: RAD51/2702)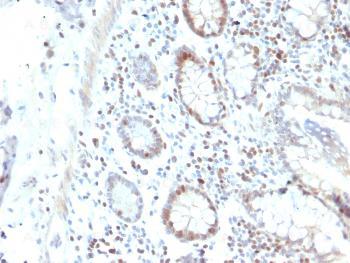 Fig. 1: Formalin-fixed, paraffin-embedded human Colon Carcinoma stained with RAD51 Mouse Monoclonal Antibody (RAD51/2702).
Roll over image to zoom in
---
| | |
| --- | --- |
| Amount : | 100 µg |
| Isotype : | Mouse IgG1, kappa |
| Content : | 200 µg/ml of Ab Purified from Bioreactor Concentrate by Protein A/G. Prepared in 10mM PBS with 0.05% BSA & 0.05% azide. Also available WITHOUT BSA & azide at 1.0mg/ml. |
| Storage condition : | Antibody with azide - store at 2 to 8°C. Antibody without azide - store at -20 to -80°C. Antibody is stable for 24 months. Non-hazardous. |
| | |
| --- | --- |
| | |
| Gene : | RAD51 |
| Gene ID : | 5888 |
| Uniprot ID : | Q06609 |
| Alternative Name : | RCA1/BRCA2 containing complex, subunit 5; BRCC5; DNA repair protein RAD51; FANCR; HsT16930; MRMV2; RAD51; RAD51 recombinase; RAD51A; RECA; RecA like protein; Recombination protein A |
| Immunogen Information : | Recombinant fragment of human RAD51 protein (around aa 1-134) (exact sequence is proprietary) |
RAD51 is one of the key factors of DNA repair by homologous recombination and has been shown to have anti-apoptotic activity in tumor cells. RAD51 protein interacts with a variety of tumor suppressor proteins including p53, BRCA1 and BRCA2. Elevated expression of RAD51 enhances radio-resistance of human tumor cells. Overexpression of RAD51 protein in tumor cells renders them resistant against cytotoxic drµgs like Cisplatin. RAD51 interacts with BRCA1 and BRCA2 to influence subcellular localization and cellular response to DNA damage. BRCA2 inactivation may be a key event leading to genomic instability and tumorigenesis from deregulation of RAD51. High-level expression of RAD51 has been observed in a variety of human malignancies.RAD51 overexpression correlates with histological grading of the tumor in invasive ductal mammary carcinoma.
Flow Cytometry (1-2µg/ml);Immunohistochemistry (Formalin-fixed) (1-2µg/ml for 30 minutes at RT)(Staining of formalin-fixed tissues is enhanced by boiling tissue sections in 10mM Citrate Buffer, pH 6.0, for 10-20 min followed by cooling at RT for 20 minutes)Optimal dilution for a specific application should be determined.
For Research Use Only. Not for use in diagnostic/therapeutics procedures.
There are currently no product reviews
---
Customers who purchased this product also purchased