Anti-CD68 (Macrophage Marker) Monoclonal Antibody(Clone: rLAMP4/824)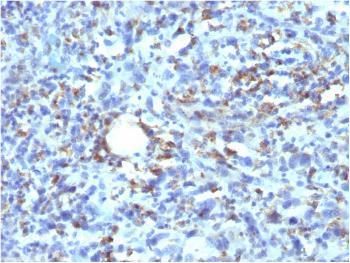 Fig. 1: Formalin-fixed, paraffin-embedded human Histiocytoma stained with CD68 Recombinant Mouse Monoclonal Antibody (rLAMP4/824).
Roll over image to zoom in
---
| | |
| --- | --- |
| Amount : | 100 µg |
| Isotype : | Mouse IgG1, kappa |
| Content : | 200 µg/ml of Ab Purified from Bioreactor Concentrate by Protein A/G. Prepared in 10mM PBS with 0.05% BSA & 0.05% azide. Also available WITHOUT BSA & azide at 1.0mg/ml. |
| Storage condition : | Antibody with azide - store at 2 to 8°C. Antibody without azide - store at -20 to -80°C. Antibody is stable for 24 months. Non-hazardous. |
This antibody recognizes a glycoprotein of 110kDa, which is identified as CD68. It is important for identifying macrophages in tissue sections. It stains macrophages in a wide variety of human tissues, including Kupffer cells and macrophages in the red pulp of the spleen, in lamina propria of the gut, in lung alveoli, and in bone marrow. It reacts with myeloid precursors and peripheral blood granulocytes. It also reacts with plasmacytoid T cells, which are supposed to be of monocyte/macrophage origin. It shows strong granular cytoplasmic staining of chronic and acute myeloid leukemia and also reacts with rare cases of true histiocytic neoplasia. Lymphomas are negative or show few granules.
Flow Cytometry (1-2µg/million cells); Immunofluorescence (1-2µg/ml); Western Blot (1-2µg/ml); ,Immunohistochemistry (Formalin-fixed) (1-2µg/ml for 30 minutes at RT),(Staining of formalin-fixed tissues is enhanced by boiling tissue sections in 10mM Citrate Buffer, pH 6.0, for 10-20 min followed by cooling at RT for 20 minutes),Optimal dilution for a specific application should be determined.
For Research Use Only. Not for use in diagnostic/therapeutics procedures.
There are currently no product reviews
---
Customers who purchased this product also purchased