Anti-EGFR (Epidermal Growth Factor Receptor) Monoclonal Antibody(Clone: GFR450)-CF488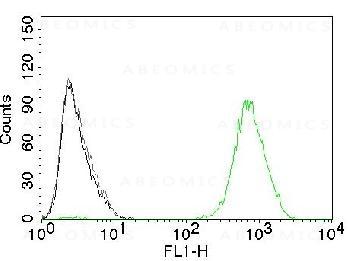 Fig. 1: Flow Cytometry of human EGFR on A431 cells. Black: cells alone; Grey: Isotype Control; Green: CF488-labeled EGFR Monoclonal Antibody (GFR450).
Roll over image to zoom in
---
| | |
| --- | --- |
| Amount : | 0.5 ml at 100µg/ml |
| Isotype : | Mouse IgG2a, kappa |
| Content : | Antibody Purified from Bioreactor Concentrate by Protein A/G and conjµgated to various reporter molecules. Prepared in 10mM PBS with 0.05% BSA and 0.05% azide. Contact us if you require this Ab in a different format. |
| Storage condition : | Antibody with azide - store at 4 to 8°C. Antibody is stable for 24 months. Non-hazardous. |
This MAb recognizes a protein of 170kDa, identified as EGFR. EGFR is type I receptor tyrosine kinase with sequence homology to erbB-1, -2, -3 -4 or HER-1, -2, -3 -4. It binds to Epidermal Growth Factor (EGF), Transforming Growth Factor-a (TGF-a), Heparin-binding EGF (HB-EGF), amphiregulin, betacellulin and epiregulin. EGFR is overexpressed in tumors of breast, brain, bladder, lung, gastric, head neck, esophagus, cervix, vulva, ovary, and endometrium. It is predominantly present in squamous cell carcinomas.
Flow Cytometry (5ul per test per one million cells or 5ul per 100ul of whole blood);Immunofluorescence (1:50-1:100);Optimal dilution for a specific application should be determined.
For Research Use Only. Not for use in diagnostic/therapeutics procedures.
There are currently no product reviews
---
Customers who purchased this product also purchased