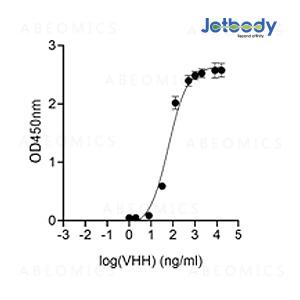 Figure 1: Indirect ELISA showing anti-GFP VHH antibody (JOT0001-1) binding to purified GFP. Plates were coated with 200ng/well purified protein and binding of JOT0001-1 assessed in serial dilution from 1ng/ml primary antibody in triplicate.
Roll over image to zoom in
---
Amount :
50 µg
Isotype :
Camelid VHH
Purification :
Affinity chromatography purified via Ni-charged resin
Content :
1 mg/mL by Nanodrop
Buffer25 mM TAPS pH8.5, 500 mM NaCl, 5 mM EDTA, 0.09 % NaN3
Storage condition :
4°C; Do not freeze.
| | |
| --- | --- |
| | |
| Gene : | GFP |
| Uniprot ID : | P42212 |
| Alternative Name : | Green fluorescent protein |
Alpaca derived anti-GFP VHH single domain antibody (molecular weight:14.1 kDa) with a 6*His tag at its C-terminal, expressed in E. coli under conditions free from animal derived components.
Green fluorescent protein (GFP) is a protein composed of 238 amino acid residues(26.9kDa) derived from the Jellyfish Aequorea victoria, which emits green light (emission peak at 509nm) when excited by blue light (excitation peak at 395nm). GFP has become an invaluable tool in cell biology research, since its intrinsic fluorescence can be visualized in living cells. EGFP contains the double-amino-acid substitutions Phe-64 to Leu and Ser-65 to Thr (previously published as GFPmut1; PMID: 8707053). In contrast to wtGFP, EGFP has a single, strong, red-shifted excitation peak at 488 nm.
Specificity: Green fluorescent protein (GFP)
Affinity constant: KD of 1.1 nM by Biacore T200
This is a product from Jotbody, Hong Kong. This antibody is made available worldwide by ABEOMICS Inc.
Positive controls : Positive ELISA detected in: recombinant full-length GFP protein Positive WB detected in: GFP-expressing 293T cells Positive IP detected in: GFP and anti-GFP VHH antibody co-expressing 293T cells Positive IF detected in: GFP-expressing Hela cells
Recommended dilutions: ELISA 1:2000-1:10000 WB 1:1000-1:5000 IP: 0.5-4.0 ug
For Research Use Only. Not for use in diagnostic/therapeutics procedures.
There are currently no product reviews
---
Customers who purchased this product also purchased