Anti-HER-4 / ERBB4 Monoclonal Antibody(Clone: ERBB4/2581)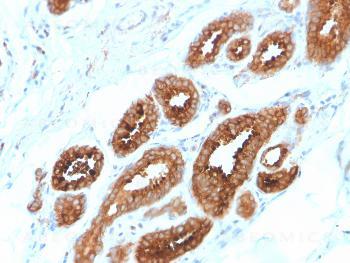 Fig. 1: Formalin-fixed, paraffin-embedded human Breast Carcinoma stained with HER-4 / ERBB4 Mouse Monoclonal Antibody (ERBB4/2581).
Roll over image to zoom in
---
| | |
| --- | --- |
| Amount : | 100 µg |
| Isotype : | Mouse IgG1, kappa |
| Content : | 200 µg/ml of Ab Purified from Bioreactor Concentrate by Protein A/G. Prepared in 10mM PBS with 0.05% BSA & 0.05% azide. Also available WITHOUT BSA & azide at 1.0mg/ml. |
| Storage condition : | Antibody with azide - store at 2 to 8°C. Antibody without azide - store at -20 to -80°C. Antibody is stable for 24 months. Non-hazardous. |
| | |
| --- | --- |
| | |
| Gene : | ERBB4 |
| Gene ID : | 2066 |
| Uniprot ID : | Q15303 |
| Alternative Name : | Avian erythroblastic leukemia viral oncogene homolog 4; HER4; human epidermal growth factor receptor 4; p180erbB4; Proto-oncogene-like protein c-ErbB-4 |
| Immunogen Information : | Recombinant fragment (around aa 1116-1269) of human ERBB4 (HER4) protein (exact sequence is proprietary) |
The EGF receptor family comprises several related receptor tyrosine kinases that are frequently overexpressed in a variety of carcinomas. Members of this receptor family include EGFR (HER1), Neu (ErbB-2, HER2), ErbB-3 (HER3) and ErbB-4 (HER4), which form either homodimers or heterodimers upon ligand binding. The gene encoding ErbB-4 is expressed as a full-length protein, which produces a short membrane-anchored cytoplasmic domain fragment and a long ectodomain fragment. The short fragment is heavily tyrosine phosphorylated and possesses tyrosine kinase catalytic activity toward an exogenous substrate. Proteolytic cleavage of ErbB-4 is promoted by the binding of heregulin. ErbB-4 is involved in cell proliferation and differentiation and its expression is highest in breast carcinoma cell lines, normal skeletal muscle, heart, pituitary, brain and cerebellum. Its expression in breast cancer, pediatric brain cancer and other types of carcinomas has been reported in studies which sµggest ErbB4 expression is involved in both normal tissue development and carcinogenesis.
Immunohistochemistry (Formalin-fixed) (1-2µg/ml for 30 minutes at RT)(Staining of formalin-fixed tissues requires boiling tissue sections in 10mM Tris with 1mM EDTA, pH 9.0, for 10-20 min followed by cooling at RT for 20 minutes)Optimal dilution for a specific application should be determined.
For Research Use Only. Not for use in diagnostic/therapeutics procedures.
There are currently no product reviews
---
Customers who purchased this product also purchased