Anti-Prohibitin (Mitochondrial Marker) Monoclonal Antibody(Clone: PHB/3230)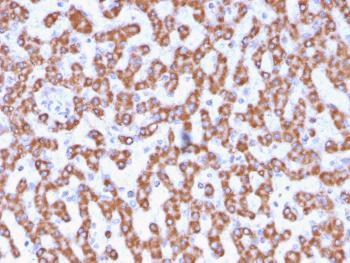 Fig. 1: Formalin-fixed, paraffin-embedded human Liver stained with Prohibitin Mouse Monoclonal Antibody (PHB/3230).
Roll over image to zoom in
---
| | |
| --- | --- |
| Amount : | 100 µg |
| Isotype : | Mouse IgG2a, kappa |
| Content : | 200 µg/ml of Ab Purified from Bioreactor Concentrate by Protein A/G. Prepared in 10mM PBS with 0.05% BSA & 0.05% azide. Also available WITHOUT BSA & azide at 1.0mg/ml. |
| Storage condition : | Antibody with azide - store at 2 to 8°C. Antibody without azide - store at -20 to -80°C. Antibody is stable for 24 months. Non-hazardous. |
Recognizes a protein of 30kDa which is identified as Prohibitin, an evolutionarily conserved protein with homologues found in yeast to man. It is located in the inner membrane of mitochondria. Althoµgh prohibitin mRNA and protein expression occurs throµghout the cell cycle, maximum levels are detected during the G1/S phase transition and minimum levels are seen in S phase and the G2/mitosis boundary. Prohibitin is located exclusively in the mitochondria with the highest concentration on the inner membrane. Prohibitin is an ideal mitochondrial marker. It shows antiproliferative activity and has been proposed to play a role in normal cell cycle regulation, replicative senescence, cellular immortalization, and tumor suppression.
Western Blot (1-2ug/ml); Immunohistochemistry (Formalin-fixed) (1-2ug/ml for 30 minutes at RT)(Staining of formalin-fixed tissues requires heating tissue sections in 10mM Tris with 1mM EDTA, pH 9.0, for 45 min at 95&degC followed by cooling at RT for 20 minutes);
For Research Use Only. Not for use in diagnostic/therapeutics procedures.
There are currently no product reviews
---
Customers who purchased this product also purchased