Monoclonal Antibody to Chromogranin A / CHGA (Neuroendocrine Marker)(Clone : CGA/413)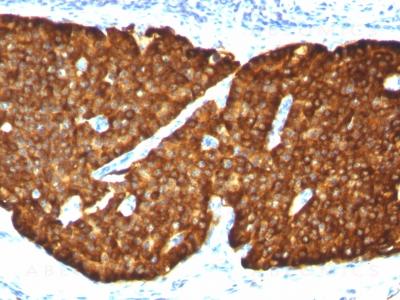 Formalin-fixed, paraffin-embedded human Pheochromocytoma stained with Chromogranin A Monoclonal Antibody (CGA/413)
Roll over image to zoom in
---
| | |
| --- | --- |
| Format : | Purified |
| Amount : | 100 µg |
| Isotype : | Mouse IgG2b Kappa |
| Purification : | Affinity Chromatography |
| Content : | 100 µg in 500 µl PBS containing 0.05% BSA and 0.05% sodium azide. Sodium azide is highly toxic. |
| Storage condition : | Store the antibody at 4°C; stable for 6 months. For long-term storage; store at -20°C. Avoid repeated freeze and thaw cycles. |
Chromogranin A is present in neuroendocrine cells throughout the body, including the neuroendocrine cells of the large and small intestine, adrenal medulla and pancreatic islets. It is an excellent marker for carcinoid tumors, pheochromocytomas, paragangliomas, and other neuroendocrine tumors. Co-expression of chromogranin A and neuron specific enolase (NSE) is common in neuroendocrine neoplasms. Reportedly, co-expression of certain keratins and chromogranin indicates neuroendocrine lineage. The presence of strong anti-chromogranin staining and absence of anti-keratin staining should raise the possibility of paraganglioma. The co-expression of chromogranin and NSE is typical of neuroendocrine neoplasms. Most pituitary adenomas and prolactinomas readily express chromogranin.
Flow Cytometry (0.5-1µg/million cells in 0.1ml); Immunofluorescence (1-2µg/ml); Immunohistology (Formalin-fixed) (0.25-0.5µg/ml for 30 minutes at RT); (Staining of formalin-fixed tissues requires boiling tissue sections in 10mM Citrate buffer, pH 6.0, for 10-20 min followed by cooling at RT for 20 minutes); Optimal dilution for a specific application should be determined.
For Research Use Only. Not for use in diagnostic/therapeutics procedures.
| | |
| --- | --- |
| Subcellular location: | Secreted, Cytoplasmic vesicle |
| Post transnational modification: | Proteolytic processing gives rise to an additional longer form of catestatin (residues 358-390) which displays a less potent catecholamine release-inhibitory activity (PubMed:10781584). Plasmin-mediated proteolytic processing can give rise to additional shorter and longer forms of catestatin peptides (PubMed:17991725). |
| Tissue Specificity: | GE-25 is found in the brain. |
| BioGrid: | 107538. 12 interactions. |
There are currently no product reviews
---
Customers who purchased this product also purchased