Monoclonal Antibody to Nucleolin (Marker of Human Cells)(Clone : 364-5)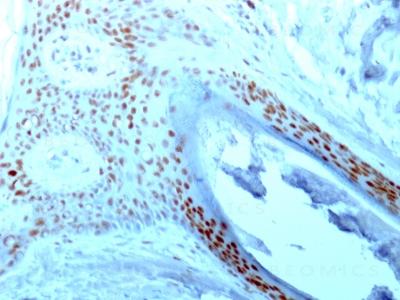 Formalin-fixed paraffin-embedded human Skin stained with Nucleolin Monoclonal Antibody (364-5).
Roll over image to zoom in
---
| | |
| --- | --- |
| Format : | Purified |
| Amount : | 100 µg |
| Isotype : | Mouse IgG1, kappa |
| Purification : | Affinity Chromatography |
| Content : | 100 µg in 500 µl PBS containing 0.05% BSA and 0.05% sodium azide. Sodium azide is highly toxic. |
| Storage condition : | Store the antibody at 4°C; stable for 6 months. For long-term storage; store at -20°C. Avoid repeated freeze and thaw cycles. |
Recognizes a protein of ~76kDa, which is identified as Nucleolin (NCL). It is the major nucleolar phosphoprotein of growing eukaryotic cells. NCL is located mainly in dense fibrillar regions of the nucleolus. It is found associated with intranucleolar chromatin and pre-ribosomal particles. Human NCL gene consists of 14 exons with 13 introns and spans approximately 11kb. It induces chromatin decondensation by binding to histone H1. It is thought to play a role in pre-rRNA transcription and ribosome assembly. This MAb can be used to stain the nucleoli in cell or tissue preparations and can be used as a marker of the nucleoli in subcellular fractions. It produces a speckled pattern in the nuclei of cells of normal and malignant cells and may be used to stain the nucleoli of cells in fixed or frozen tissue sections. It can be used with paraformaldehyde fixed frozen tissue or cell preparations and formalin fixed, paraffin-embedded tissue sections.
Flow Cytometry (1-2ug/million cells); Immunofluorescence (1-2ug/ml); Western Blot (1-2ug/ml); Immunohistochemistry (Formalin-fixed) (0.25-0.5ug/ml for 30 minutes at RT)(Staining of formalin-fixed tissues requires heating tissue sections in 10mM Tris with 1mM EDTA, pH 9.0, for 45 min at 95&degC followed by cooling at RT for 20 minutes);
For Research Use Only. Not for use in diagnostic/therapeutics procedures.
| | |
| --- | --- |
| Subcellular location: | Nucleus, Cytoplasm |
| Post transnational modification: | Some glutamate residues are glycylated by TTLL8. This modification occurs exclusively on glutamate residues and results in a glycine chain on the gamma-carboxyl group (By similarity). |
| BioGrid: | 110771. 358 interactions. |
There are currently no product reviews
---
Customers who purchased this product also purchased