Mouse Monoclonal Antibody to IL-8 (Clone : 2D11C10)(Discontinued)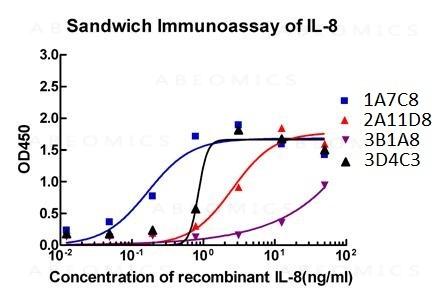 Figure-1 : Sandwich ELISA analysis of matched antibody pairs using IL-8 Antibody (Clone: 2D11C10) 1) ELISA plate is coated with Human IL-8 Antibody (Clone:2D11C10) 2) Human recombinant IL-8 protein at appropriate dilution is added into appropriate reaction wells 3) After a period of incubation, HRP conjugated Human IL-8 Antibody (Clone. 1A7C8, 2A11D8, 3B1A8 and 3D4C3) is added followed by proper period of incubation.
Roll over image to zoom in ---
| | |
| --- | --- |
| Format : | Purified |
| Amount : | 40 µg |
| Isotype : | Mouse IgG1, κ |
| Purification : | Protein A chromatography |
| Content : | 0.5 mg/ml, lyophilized with PBS, pH 7.4, containing 0.02% sodium azide. |
| Storage condition : | The antibody is stable in lyophilized form if stored at -20°C or below. The reconstituted antibody can be stored for 2-3 weeks at 2-8°C. For long term storage, aliquot and store at -20°C or below. Avoid repeated freezing and thawing cycles. |
| | |
| --- | --- |
| | |
| Gene : | CXCL8 |
| Gene ID : | 3576 |
| Uniprot ID : | P10145 |
| Alternative Name : | C-X-C motif chemokine 8, Chemokine (C-X-C motif) ligand 8, Emoctakin, Granulocyte chemotactic protein 1, GCP-1, Monocyte-derived neutrophil chemotactic factor, MDNCF, Monocyte-derived neutrophil-activating peptide, MONAP, Neutrophil-activating protein 1, NAP-1, Protein 3-10C T-cell chemotactic factor |
| Immunogen Information : | Amino acids sequence: MTSKLAVALL AAFLISAALC EGAVLPRSAK ELRCQCIKTY SKPFHPKFIK ELRVIESGPH CANTEIIVKL SDGRELCLDP KENWVQRVVE KELKRAENS |
IL-8 is a member of the CXC chemokine family. This family of small basic heparan-binding proteins is proinflammatory and primarily mediates the activation and migration of neutrophils from peripheral blood into tissue. This chemokine is one of the major mediators of the inflammatory response and is secreted by several cell types in response to an inflammatory stimulus. It functions as a chemoattractant, and is also a potent angiogenic factor. IL-8 attracts neutrophils, basophils, and T-cells, but not monocytes. Cystic fibrosis (CF) is characterized by severe lung inflammation. The inflammatory process is believed to be caused by massive overproduction of the proinflammatory protein IL-8, and the high levels of IL8 in the CF lung are therefore believed to be the central mechanism behind CF lung pathophysiology. Human IL-8 Antibody (2D11C10), mAb, Mouse was raised by a genetic immunization technique. Genetic immunization can be used to generate antibodies by directly delivering antigen-coding DNA into the animal, rather than injecting a protein or peptide. The animals cells produce the protein, which stimulates the animals immune system to produce antibodies against that particular protein. A vector coding for a partial fusion protein was used for genetic immunisation of a mouse and the resulting serum was tested in Western blot against an E.coli lysate containing that partial fusion protein. Genetic immunization offers enormous advantages over the traditional protein-based immunization method. DNA is faster, cheaper, and easier to produce and can be produced by standard techniques readily amenable to automation. Furthermore, the antibodies generated by genetic immunization are usually of superior quality with regard to specificity, affinity, and native protein recognization.
ELISA Capture: 0.5-1 µg/ml
ELISA Detection: 0.05-0.2 µg/ml
Western blot:1-2 µg/ml
For Research Use Only. Not for use in diagnostic/therapeutics procedures.
| | |
| --- | --- |
| Subcellular location: | Secreted |
| Post transnational modification: | Citrullination at Arg-27 prevents proteolysis, and dampens tissue inflammation, it also enhances leukocytosis, possibly through impaired chemokine clearance from the blood circulation. |
| BioGrid: | 109790. 12 interactions. |
There are currently no product reviews
---
Customers who purchased this product also purchased