Phospho-p44/42 MAPK (Erk1/2) (Thr202/Tyr204) (Clone: A11) rabbit mAb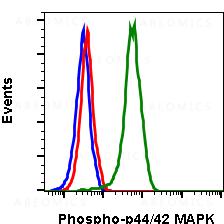 Fig-1: Flow cytometric analysis of Jurkat cells secondary antibody only negative control (blue) or treated with U0126 (red) or treated with PMA (green) using Phospho-ERK1/2 (Thr202/Tyr204) antibody ERK12T202Y204-A11.
Roll over image to zoom in
---
| | |
| --- | --- |
| Format : | Purified |
| Amount : | 200 µl |
| Isotype : | Rabbit IgG1k |
| Content : | 1X PBS, 0.02% NaN3, 50% Glycerol, 0.1% BSA |
| Storage condition : | Store at -20°C. Avoid repeated freeze and thaw cycles. |
| | |
| --- | --- |
| | |
| Alternative Name : | Mitogen-activated protein kinase 3, MAPK3, ERK2, p44-MAPK, PRKM3, Mitogen-activated protein kinase 1, MAPK1, ERK1, p42-MAPK, PRKM1, PRKM2 |
| Immunogen Information : | A synthetic phospho-peptide corresponding to residues surrounding Thr202/Tyr204 of human phospho Erk1/2. |
Human Erk1 and Erk2 Ser/Thr kinases share 84% sequence identity and nearly all functions. These MAP kinases are activated in response to mitogens and growth factors as part of the Ras-Raf-MEK-ERK signal transduction cascade. This pathway regulates cell survival, differentiation, adhesion, cell cycle progression, and many other cellular processes. Upon phosphorylation, Erk1/2 translocate to the nucleus to activate transcription factors including c-Fos, Elk1, Ets1, and SP-1. There are more than 175 known cytoplasmic and nuclear substrates of Erk1/2. The Erk1/2 cascade is upregulated in many human cancers, even when oncogenic mutations are not found. Multiple small-molecule inhibitors of Erk1/2 have been developed, including ones targeting the ATP-binding site either competitively or irreversibly.
1µg/mL - 0.001µg/mL. It is recommended that the reagent be titrated for optimal performance for each application. See product image legends for additional information.(0.5mg/ml, more than 200 western blots)
For Research Use Only. Not for use in diagnostic/therapeutics procedures.
There are currently no product reviews
---
Customers who purchased this product also purchased