Anti-MRP3 (Multidrµg Resistance-Associated Protein 3) Monoclonal Antibody(Clone: ABCC3/2971)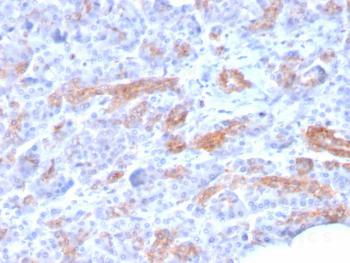 Fig. 1: Formalin-fixed, paraffin-embedded human Pancreatic Carcinoma stained with MRP3 Mouse Monoclonal Antibody (ABCC3/2971).
Roll over image to zoom in
---
| | |
| --- | --- |
| Amount : | 100 µg |
| Isotype : | Mouse IgG1, kappa |
| Content : | 200 µg/ml of Ab Purified from Bioreactor Concentrate by Protein A/G. Prepared in 10mM PBS with 0.05% BSA & 0.05% azide. Also available WITHOUT BSA & azide at 1.0mg/ml. |
| Storage condition : | Antibody with azide - store at 2 to 8°C. Antibody without azide - store at -20 to -80°C. Antibody is stable for 24 months. Non-hazardous. |
| | |
| --- | --- |
| | |
| Gene : | ABCC3 |
| Gene ID : | 8714 |
| Uniprot ID : | O15438 |
| Alternative Name : | ABC31; ATP-binding cassette sub-family C member 3 (ABCC3); Canalicular multispecific organic anion transporter 2 (CMOAT2); MLP2; MOATD; Multi-specific organic anion transporter D; Multidrµg resistance-associated protein 3 |
| Immunogen Information : | Recombinant fragment (around aa 815-957) of human MRP3 (ABCC3) protein (exact sequence is proprietary) |
The two members of the large family of ABC transporters known to confer multidrµg resistance in human cancer cells are the MDR1 P-glycoprotein and the multidrµg-resistance protein MRP1. MRP1 is an integral membrane protein that contains an MDR-like core, an N-terminal membrane-bound region and a cytoplasmic linker, and it is expressed in various cerebral cells, as well as in lung, testis and peripheral blood. The MRP gene family also includes MRP2, which is alternatively designated cMOAT (for canalicular multispecific organic anion transporter) and MRP3, which are both conjµgate export pumps exp- ressed predominantly in hepatocytes. MRP2 localizes exclusively to the apical membrane and is constitutively expressed at a high level in normal liver cells. Conversely, MRP3 localizes to the basolateral membrane where it also medi- ates the transport of the organic anion S-(2,4-dinitrophenyl-) glutathione toward the basolateral side of the membrane. MRP3 is normally expressed at comparatively lower levels than MRP2 and increases only when secretion across the apical membrane by MRP2 is impaired.
Immunohistochemistry (Formalin-fixed) (1-2µg/ml for 30 minutes at RT)(Staining of formalin-fixed tissues requires boiling tissue sections in 10mM Tris with 1mM EDTA, pH 9.0, for 10-20 min followed by cooling at RT for 20 minutes)Optimal dilution for a specific application should be determined.
For Research Use Only. Not for use in diagnostic/therapeutics procedures.
There are currently no product reviews
---
Customers who purchased this product also purchased