Anti-Thrombomodulin / CD141 (Endothelial Cell Marker) Monoclonal Antibody(Clone: THBD/1782)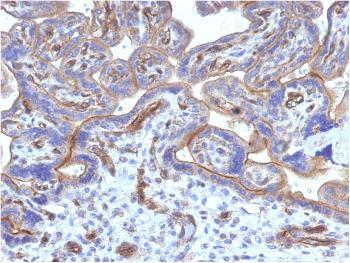 Fig. 1: Formalin-fixed, paraffin-embedded human Placenta stained with Thrombomodulin/CD141 Mouse Monoclonal Antibody (THBD/1782).
Roll over image to zoom in
---
| | |
| --- | --- |
| Amount : | 100 µg |
| Isotype : | Mouse IgG2a, kappa |
| Content : | 200 µg/ml of Ab Purified from Bioreactor Concentrate by Protein A/G. Prepared in 10mM PBS with 0.05% BSA & 0.05% azide. Also available WITHOUT BSA & azide at 1.0mg/ml. |
| Storage condition : | Antibody with azide - store at 2 to 8°C. Antibody without azide - store at -20 to -80°C. Antibody is stable for 24 months. Non-hazardous. |
It recognizes a protein of 75kDa, identified as Thrombomodulin. Thrombomodulin is a transmembrane glycoprotein with natural anticoagulant properties. It is normally expressed by a restricted number of cells, such as endothelial and mesothelial cells. In addition, synovial lining and syncytio-trophoblasts of placenta also express thrombomodulin. This protein is present in almost all of benign vascular tumors and majority of malignant vascular tumors (Kaposi's sarcoma, angiosarcoma, and epithelioid hemangioendothelioma). Hence, anti-thrombomodulin serves as a sensitive marker for lymphatic endothelial cells and their tumors. Recently, thrombomodulin antibody has been used for mesothelial cells and malignant mesotheliomas.
ELISA (Use Ab at 2-4µg/ml for coating) (Order Ab without BSA); Immunohistochemistry (Formalin-fixed) (1-2µg/ml for 30 minutes at RT)(Staining of formalin-fixed tissues is enhanced by boiling tissue sections in 10mM Tris buffer with 1mM EDTA, pH 9.0, for 10-20 min followed by cooling at RT for 20 minutes)Optimal dilution for a specific application should be determined.
For Research Use Only. Not for use in diagnostic/therapeutics procedures.
There are currently no product reviews
---
Customers who purchased this product also purchased