Anti-HEXA Polyclonal Antibody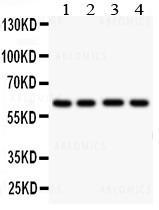 Figure 1: Anti-HEXA antibody, Western blotting: Lanes: Anti HEXA at 0.5µg/ml with Lane 1: Human Placenta Tissue Lysate at 50µg, Lane 2: HELA Whole Cell Lysate at 40µg, Lane 3: HEPG2 Whole Cell Lysate at 40µg, Lane 4: U87 Whole Cell Lysate at 40µg. Predicted band size: 61 kDa. Observed band size: 61 kDa.
Roll over image to zoom in
---
| | |
| --- | --- |
| Amount : | 100 μg/vial |
| Isotype : | Rabbit IgG |
| Purification : | Immunogen affinity purified. |
| Content : | Each vial contains 5mg BSA, 0.9mg NaCl, 0.2mg Na2HPO4, 0.05mg Thimerosal, 0.05mg NaN3. Reconstitute : Add 0.2ml of distilled water will yield a concentration of 500µg/ml. |
| Storage condition : | At -20˚C for one year. After reconstitution, at 4˚C for one month. It can also be aliquotted and stored frozen at -20˚C for a longer time. Avoid repeated freezing and thawing. |
HEXA(hexosaminidase A(alpha polypeptide)) is an enzyme that in humans is encoded by the HEXA gene. Hexosaminidase A and the cofactor GM2 activator protein catalyze the degradation of the GM2 gangliosides and other molecules containing terminal N-acetyl hexosamines The HEXA gene encodes the alpha subunit of hexosaminidase A, a lysosomal enzyme involved in the breakdown of gangliosides. The HEXA gene is mapped on 15q23. Even though the alpha and beta subunits of hexosaminidase A can both cleave GalNAc residues, only the alpha subunit is able to hydrolyze GM2 gangliosides. The alpha subunit contains a key residue, Arg-424, which is essential for binding the N-acetyl-neuramanic residue of GM2 gangliosides. Chimeric constructs were expressed in HeLa cells and selected constructs were produced in the baculovirus expression system to determine their ability to degrade GM2 ganglioside in the presence of GM2 activator protein. Their results allowed them to define 2 noncontiguous sequences in the alpha subunit (amino acids 1-191 and 403-529) which, when substituted into analogous positions in the beta subunit, conferred activity against the sulfated substrate.
Western blot : 0.1-0.5μg/ml; Immunohistochemistry(Paraffin-embedded Section) : 0.5-1μg/ml
For Research Use Only. Not for use in diagnostic/therapeutics procedures.
| | |
| --- | --- |
| Subcellular location: | Lysosome |
| Post transnational modification: | N-linked glycan at Asn-115 consists of Man(3)-GlcNAc(2). |
| BioGrid: | 109322. 38 interactions. |
There are currently no product reviews
---
Customers who purchased this product also purchased