SARS CoV2 Spike S1 Antibody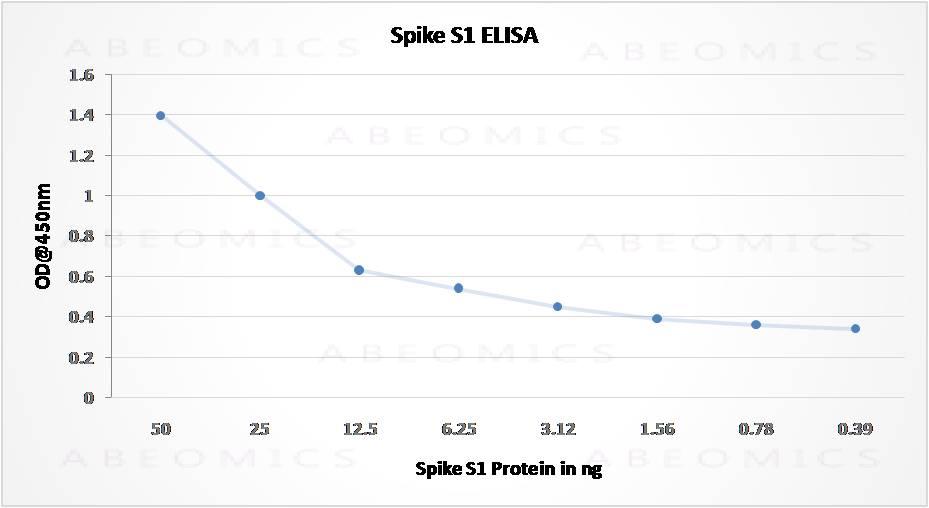 Figure-1: The Sandwich ELISA was carried out by coating the 96 well plate with 200 ng/well of ABM1H9.1E6 (Cat#10-10039) monoclonal antibody. The Mammalian expressed full-length SARS-CoV-2 Spike S1 protein (21-1008) was serially diluted from 50 ng to 0.39 ng in triplicates across rows. The (11-2009) polyclonal antibody (200 ng/well ) was used as detection antibody. Goat Anti-rabbit HRP was used as secondary antibody.
Roll over image to zoom in
Shipping Info:
Order now and get it on Tuesday June 06, 2023
Same day delivery FREE on San Diego area orders placed by 1.00 PM
---
| | |
| --- | --- |
| Format : | Purified |
| Amount : | 100 µg |
| Isotype : | Rabbit IgG |
| Purification : | Protein A Purification |
| Content : | 25 µg in 50 µl/100 µg in 200 µl PBS containing 0.05% BSA and 0.05% sodium azide. Sodium azide is highly toxic. |
| Storage condition : | Store the antibody at 4°C, stable for 6 months. For long-term storage, store at -20°C. Avoid repeated freeze and thaw cycles. |
| | |
| --- | --- |
| | |
| Uniprot ID : | P0DTC2 |
| Alternative Name : | nCov, Sars-Cov-2 |
| Immunogen Information : | The target protein is expressed with sequence (AA 14-683) of SARS-CoV-2/COVID-19 Spike S1 sequence fused with a 10×His tag in C-Terminal. |
The spike (S) protein of nCoV/SARS-CoV-2/COVID-19 is one of the structural glycoproteins that remains embedded in viral envelope and acts as the fundamental component of early viral infection of nCoV/SARS-CoV-2/COVID-19 upon binding the host receptor. The nCoV/SARS-CoV-2/COVID-19 has a trimeric spike protein which has two main domains such as S1 domain for receptor binding and S2 domain for membrane fusion and several specific cleavage sites in S1- S2 boundary junction that needs a novel, endocytic protease- primed cleavage to get activated during infection. It mainly binds to the furin protein on the cell membrane which performs trypsin like proteolytic cleavage and then the protein gets activated facilitating its entry into the host. This transmembrane spike protein of nCoV/SARS-CoV-2/COVID-19 shares binding property to the Angiotensin Converting Enzyme 2 (ACE2) likely to that of SARS- CoV. The high affinity of nCoV/SARS-CoV-2/COVID-19 Spike protein for human ACE2 may contribute to the apparent ease with which nCoV/SARS-CoV-2/COVID-19 can spread from human-to-human and make nCoV/SARS-CoV-2/COVID-19 pandemic.
Recommended dilutions: WB: 1-2 µg/ml. However, this need to be optimized based on the research applications.
For Research Use Only. Not for use in diagnostic/therapeutics procedures.
There are currently no product reviews
---
Customers who purchased this product also purchased