Recombinant Human ACE2 His and FLAG Tag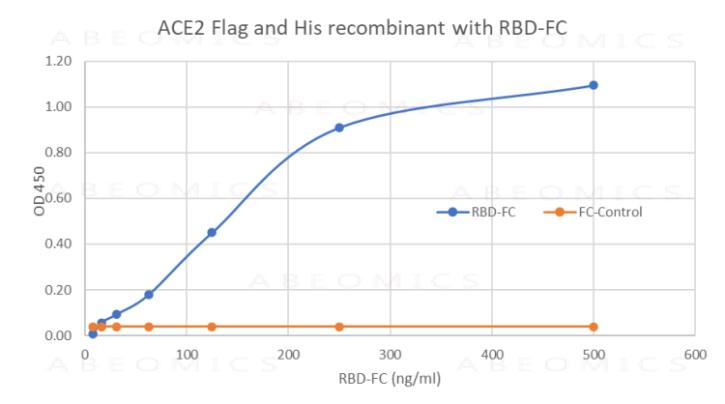 Figure 1 : Recombinant Human ACE2 His and FLAG Tag (21-1006) binds with high affinity to the Spike (RBD) protein of the virus SARS-CoV-2. Method: Recombinant Human ACE2 His and FLAG Tag (21-1006) is coated on an ELISA plate at 1 ug/ml overnight at 4°C. Recombinant SARS-Cov-2 Spike RBD Protein Fc Tag (319-541 aa) is added (starting at a concentration of 500 ng/ml with a two fold serial dilution) incubated one hour at RT. The interaction is then detected using an anti-human IgG (HRP).
Roll over image to zoom in
Shipping Info:
Order now and get it on Tuesday October 03, 2023
Same day delivery FREE on San Diego area orders placed by 1.00 PM
---
| | |
| --- | --- |
| Amount : | 100 µg |
| Purification : | Greater than 95% by SDS-PAGE. |
| Content : | 0.5 mg/ml in sterile PBS with 20% Glycerol, pH 7.4 |
| Storage condition : | Recombinant Human ACE2 His and FLAG Tag protein is shipped on ice packs. Upon arrival, Store at -20°C. Do not freeze-thaw multiple times. |
| AA sequence : | The extracellular domain of recombinant human ACE2 (aa 20-740) is fused with C-terminus FLAG tag and His tag |
Source: CHO cells. Angiotensin-converting enzyme 2 (ACE2) is an ectoenzyme (carboxypeptidase) with an extracellular catalytic domain that predominantly localizes at the plasma membrane and is thereby able to hydrolyze circulating peptides. ACE2 has approximately 42% sequence identity with ACE, and its cytoplasmic and transmembrane domains show 48% homology to the protein collectrin that plays a critical role in the amino acid absorption of the kidney. ACE2 converts angiotensin I to angiotensin 1-9, a peptide of unknown function, and angiotensin II to angiotensin 1-7, a vasodilator. ACE2 is involved in the regulation of systemic blood pressure and has direct effects on cardiac functions. It is expressed predominantly in endothelial cells of the lung, gut, heart and kidney. ACE2 together with the protease TMPRSS2 acts as a functional receptor for SARS coronavirus as well as for the new highly pathogenic coronavirus, 2019-nCoV/SARS-CoV-2, which is the cause of COVID-19.
There are currently no product reviews
---
Customers who purchased this product also purchased